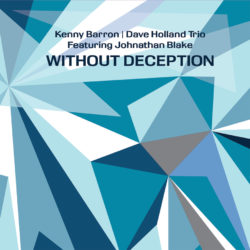 Without Deception
Kenny Barron / Dave Holland Trio featuring Johnathan Blake
Dare2 Records, 2020
Second Thoughts

Without Deception

Until Then

Speed Trap

Secret Places

I Remember When

Worry Later
Released March 6, 2020

Kenny Barron – piano
Dave Holland – bass
Johnathan Blake – drums
Dare2 Records is thrilled to announce the March 6 release of Without Deception, the intimate and adventurous debut recording by the Kenny Barron / Dave Holland Trio featuring Johnathan Blake. The album expands on the fruitful relationship forged by the two jazz icons over the course of more than three decades with the rejuvenating addition of the masterful young drummer.
Separated in age by only three years, the two leaders – both honored as NEA Jazz Masters – represent an impressive spectrum of jazz history between them. The Philadelphia-born pianist apprenticed with such giants as Dizzy Gillespie and Yusef Lateef before collaborating with the likes of Stan Getz, Ron Cater, Buster Williams and Regina Carter, earning nine Grammy Award nominations along the way. The British bassist came to prominence in groundbreaking groups led by such legends as Miles Davis, Stan Getz, Sam Rivers, Betty Carter, and Anthony Braxton—as well as collaborations with the likes of Chick Corea, Gary Burton, Jack DeJohnette and John McLaughlin.
While the pair crossed paths often throughout their early years, they finally enjoyed the opportunity to record together for the first time in 1985, on Barron's exhilarating trio album Scratch. They reconvened in 2012 for a series of duo performances in Europe and the U.S. that culminated in the release of the acclaimed duo album The Art of Conversation, which JazzTimes praised for showcasing "the profound mastery of two artists who share an easy rapport and elegantly restrained expressiveness."
Those facets are luminously on display throughout Without Deception, which deepens the empathetic communication via the presence of Blake, a fellow Philadelphia who has worked extensively with Barron in recent years. Drawn from a burly new piece contributed by Barron, the title of Without Deception captures the stark honesty and deceptive simplicity of the dialogue between Barron's fleet, sensitive piano and Holland's muscular yet nimble bass, gilded by Blake's deft rhythmic touch.
With the gentle profundity of close friends reprising a long-running conversation, the three exquisitely explore the nuances and possibilities to be discovered in ten aptly chosen tunes, combining originals by the co-leaders with classics by legendary figures Thelonious Monk and Duke Ellington, the late, vaunted pianist Mulgrew Miller, and Barron protégé Sumi Tonooka. The results are at once captivating and celebratory, akin to eavesdropping as heartfelt revelations alternate with raucous, affectionate humor.
Back to All Recordings