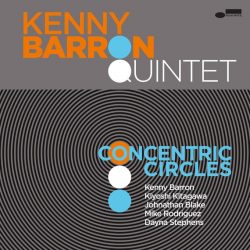 Concentric Circles
Kenny Barron Quintet
Blue Note Records, 2018
DPW (Kenny Barron)

Concentric Circles (Barron)

Blue Waters (Barron)

A Short Journey (Barron)

Aquele frevo axe (Caetano Veloso/Cezar Medes)

Von Hangman (Barron)

In the Dark (Barron)

Baile (Barron)

L's Bop (Lenny White)

I'm Just Sayin' (Barron)

Reflections (Thelonious Monk)
Kenny Barron, piano
Kiyoshi Kitagawa, bass (except track 11)
Johnathan Blake, drums (except track 11)
Mike Rodriquez, trumpet and flugelhorn (except track 11)
Dayna Stephens, soprano and tenor saxophone (except track 11)
Produced by Kenny Barron
Co-Produced by Karen Kennedy
Recorded March 19 & 20, 2017
Systems Two Studios, Brooklyn, NY
Engineer: Joe Marciano
Mixed & Mastered by Max Ross
In 2018, the esteemed pianist, composer, bandleader and educator Kenny Barron will celebrate his 75th birthday and mark the 50th year of a remarkable recording career that shows no signs of slowing down. In fact, the year will be punctuated with yet another milestone: the release of his Blue Note debut Concentric Circles, a sublime 11-song set that finds the 11-time Grammy nominee returning to a dynamic quintet setting.
On Barron's previous two Impulse! releases – The Art of Conversation and Book of Intuition – he created magic in more intimate settings: duo with bassist Dave Holland and trio with drummer Jonathan Blake and bassist Kiyoshi Kitagawa, respectively. And while duo and trio outings have set many of the high-water marks of Barron's enormous discography, his 1968 debut LP You Had Better Listen was a quintet session co-led with trumpeter Jimmy Owens, as well as his critically acclaimed 1986 LP What If with trumpeter Wallace Roney, saxophonist John Stubblefield, bassist Cecil McBee, and drummer Victor Lewis.
Reviews
Hothouse
Winning Spins By George Kanzler
National Endowment for the Arts Jazz Master Kenny Barron was just a teenager when he joined Dizzy Gillespie's combo on piano in the early 1960s. A generation later Leslie Pintchik was on a teaching track in English Literature at Columbia University when she embraced jazz and decided to pursue a career as a pianist. In this month's Winning Spins, Kenny and Leslie have new albums featuring their work as composers as well as pianists. Both lead combos, a quintet in Kenny's case and a quartet augmented by horns or accordion on some tracks for Leslie.
Concentric Circles, Kenny Barron Quintet (Blue Note), features eight of Kenny's originals in its 11-track program. Kenny leads a stellar group that plays in the bright and precise tradition of hard bop and post-bop modern jazz groups. Joining him are trumpeter and flugelhornist Mike Rodriguez, soprano and tenor saxophonist Dayna Stephens, bassist Kyoshi Kitagawa and drummer Johnathan Blake.
Kenny claims he did a quintet date "because I get to write more," but his playing is as prominent here as his composing and there is no doubt when listening that the pianist is pulling the strings. Kenny closes the album with a solo version of Thelonious Monk's "Reflections" that balances homage with originality, proving himself a masterful solo player. Kenny is also a great ensemble player, equally adept at soloing, comping and adding contrapuntal lines to group passages.
The pianist easily assumes a Cuban jazz persona on his montuno-driven "Baile," maintaining that rhythm with verve behind diminishing bar exchanges between tenor sax and trumpet before taking over with a percolatingly percussive solo that Chucho Valdés would be proud of. His arrangement of Caetano Veloso's gentle samba "Aquele Frevo Axe" draws the listener in with a long, languorous trio opening theme and piano solo before the horns take relatively short solos and the piano returns over livelier rhythms for a bright, captivating solo and finale.
Diversity is a watchword of this CD, as Kenny ranges from straight-ahead hard bop on "DPW" for his Ditmas Park West Brooklyn neighborhood, to a moody 6/8 "Blue Waters" suggestive of Herbie Hancock's "Maiden Voyage," and a struttin', snappy New Orleans funk groove on "I'm Just Sayin'" that finds him pushing counterlines to the horns in his comping. Post 20th Century rhythmic flexibility meets bebop in "Von Hangman," a zigzagging theme with gnarly turnarounds. Kenny finds a prancing groove on his chart of Lenny White's "L's Bop," his solo a paragon of modern swing. In short, Kenny has turned this quintet album into a multifarious showcase for his jazz talents.
Barron was born in Philadelphia in 1943, and moved to New York City when he was just 19 years old. His distinguished career has seen him collaborate with jazz titans including Dizzy Gillespie, James Moody, Milt Jackson, Stan Getz, Chet Baker, Lee Morgan, Freddie Hubbard, Joe Henderson, and Yusef Lateef. Barron has made notable appearances on Blue Note records going all the way back to 1967 with the likes of Stanley Turrentine, Booker Ervin, and Bobby Hutcherson, and in more recent years with Sonny Fortune, Dianne Reeves, and Terence Blanchard.
On Concentric Circles, he introduces a new edition of the Kenny Barron Quintet featuring Blake and Kitagawa along with saxophonist Dayna Stephens and trumpeter Mike Rodriguez. "I've wanted to do a quintet date because I get to write more," Barron says matter-of-factly, clearly relishing the opportunity to expand his sonic palette on these eight original compositions plus new interpretations of songs by Caetano Veloso, Thelonious Monk, and Lenny White.
The album opens with the barreling "DPW," an up-tempo hard-bop delight that pays homage to Barron's Brooklyn neighborhood, Ditmas Park West. Composed in 2013, the song jolts with an enticing frontline trumpet-and-tenor saxophone melody and urbane harmonies reminiscent of those heard in Art Blakey's Jazz Messengers and Miles Davis' mid-'60s quintet. Atop a sterling groove that slides between straight-ahead swing and Afro-Latin rhythms, Barron hammers a crystalline yet lyrical improvisation that illuminates his mastery of touch, phrasing and harmonic guile.
On the title track "Concentric Circles," Barron delivers an alluring waltz, buoyed by the rhythm section's fluttering rubato, and adorned by supple solos from the leader then Stephens and Rodriguez. Blake's jostling 6/8 rhythms propel "Blue Waters," another new Barron composition that brims with blues-laden passages. "A Short Journey" – a ballad marked by languid horn melodies, ruminative piano, suspended cymbals and throbbing bass accompaniment – moves the opening sunny vibes of Concentric Circles into darker sonic corridors.
The mood brightens again with Barron's bewitching makeover of the Caetano Veloso and Cezar Mendes composition, "Aquele Frevo Axe." Introduced to Barron by Gal Costa's version, the lithe samba gem continues the pianist's established love affair with Brazilian music. That tranquility, though, soon gives way to Barron's capricious original "Von Hangman," on which piano, trumpet, and saxophone navigate through a labyrinth of zigzagging phrases while the rhythm section spurs them forward with a driving gait. The tenor returns to the contemplative with Barron's soul-stirring "In the Dark," which he originally composed for the score of a movie. This song reveals Barron's gift for penning picturesque music, with its lurking pace, forlorn harmonies and descending melody.
Barron's love for Latin rhythm returns with his sanguine "Baile," on which he nails an infectious, mid-tempo piano groove on which Stephens and Rodriguez trade sensual, hip-swerving passages before he unfurls a percussive, melodically dramatic essay. Lenny White's shimmering "L's Bop" provides an ideal vehicle for the two horn players and the leader to delve into the unfettered joy of cohesive momentum with their solos. Barron initiates a funky bass line which Kitagawa soon picks up on the strutting "I'm Just Sayin,'" which boogies to an implied Crescent City groove.
The spirit of Thelonious Monk – one of Barron's most prominent touchstones – is present in all of Barron's recordings. Like he's done on so many other albums, Barron pays his respect to the jazz icon by including one of his cherished compositions. Concentric Circles concludes with a sumptuous solo piano reading of Monk's "Reflections," a song that Barron has recorded numerous times, beginning with the group Sphere on the 1992 LP Four In One.
Eight years after becoming a National Endowment for the Arts "Jazz Master," with critics declaring him "one of the top jazz pianists in the world" (Los Angeles Times), Barron is still striving to reach new creative heights as he continues to record and tour with many different instrumental configurations. With numerous awards such as the 2009 Living Legacy Award from the Mid-Atlantic Foundation and six wins as the Jazz Journalist Association's "Best Pianist" Award, Barron rests on no laurels. Concentric Circles is another sparkling jewel in Barron's crown; and it surely won't be the last.
The New York City Jazz Record
Pianist Kenny Barron was named an NEA Jazz Master in 2010 and has been honored with 11 Grammy nominations and regular appearances in the top tier of critics' polls.
Barron has upgraded his recent working trio of bassist Kiyoshi Kitagawa and drummer Johnathan Blake to a quintet, adding tenor/soprano saxophonist Dayna Stephens and trumpeter Mike Rodriguez, expanding his opportunities as a composer and arranger. The pianist has not settled into a predictable style of writing; his new pieces show that he continues to push the boundaries of his universe. This has been a working band for a while, with a rhythm section rivaling any current group and two up-and-comers in the frontline, playing music already woodshedded extensively on stage.
"DPW" is an infectious opener, brisk postbop detouring at times into an AfroCuban setting, showcasing big-toned tenor and energetic trumpet. "A Short Journey" has a sorrowful air conveyed by emotional soprano, with the rhythm section playing loosely behind the two horns. The easygoing rendition of Brazilian Caetano Veloso's bossa nova "Aquele Frevo Axé" relieves some of the tension as Barron shows off his lyrical side. The funky Barron original "I'm Just Sayin''' is transformed through inventive use of dissonance while still retaining its urban flavor.
As Barron was a founding member of the Thelonious Monk tribute band Sphere (active from 1982-2002), it's never a surprise to hear one of the master's pieces on a Barron album. A solo interpretation of "Reflections" reveals the composer's early stride influence (though in a very subdued manner) while blending elegance and humor, complete with a playful staccato tag at the conclusion.
— Ken Dryden
Back to All Recordings