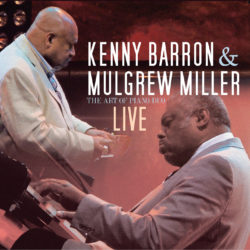 The Art of the Piano Duo – Live
Kenny Barron & Mulgrew Miller
Groovin High Records (SSC 4753), 2019
Disc 1:
Stars Fell in Alabama

When Lights Are Low

Recordame

Introduction by Mulgrew Miller & Kenny Barron

Song For Abdullah*

Introduction by Kenny Barron

It Never Entered my Mind


I Mean You

Blue Monk
Disc 2:
It Could Happen To You

You Stepped Out Of A Dream

Introduction by Kenny Barron

Never Let Me Go


Introduction by Mulgrew Miller

Spring Can Really Hang You Up The Most*

Introduction by Mulgrew Miller

I Mean You

Have You Met Miss Jones
Disc 3:
Yardbird Suite

Introduction by Kenny Barron

When Lights are Low

The Very Thought of You

Introduction by Kenny Barron

I Got It Bad And That Ain't Good


Introduction by Mulgrew Miller & Kenny Barron

Memories of You*

Joy Spring
Recorded Live in Marciac, France August 7, 2005 (Disc 1), Geneva, Switzerland May 12, 2011 (Disc 2), Zurich, Switzerland May 14, 2011 (Disc 3)
The works of true artistic masters are things to cherish. When two such masters come together to create, it is truly a moment to behold. Pianists Kenny Barron and Mulgrew Miller have cemented themselves as two of the foremost pianists and song interpreters of the 21st century. In an inspired conception, Barron and Miller were paired in duo performances, one in 2005 and two in 2011, that are presented here as The Art of Piano Duo – Live.
Miller's unfortunate passing in 2013 has left a void in the jazz world, so it is extremely important to preserve his legacy. These fantastic performances stand as wonderful reminders of not only each pianist's remarkable talents but also their affinity for one another and their ability to work together in this unusual dual piano setting.
The concerts that are presented on the recordings were originally produced by Jordi Suñol for International Jazz Productions. The first was held on August 7, 2005 in Marciac, France. The other two were in 2011, one in Geneva, Switzerland on May 12 and the other in Zurich on May 14.
The program of the concerts contains compositions that cover the full range of the jazz canon. Pieces from the great American songbook, from composers like Rodgers and Hart and Jimmy Van Heusen and Johnny Burke, sit alongside pieces by jazz legends like Duke Ellington, Charlie Parker and the ever-present Thelonious Monk. All are intriguingly performed either in duet or as solo pieces.
These remarkable performances are available for the first time in a three-disc set produced by Jacques Muyal for Groovin High Records.
Back to All Recordings